A survey by the CIPD found that 43% of British workers would not feel comfortable disclosing poor mental health to their manager or employer. The difficulty of starting the conversation is seen as the biggest barrier, creating a 'vicious circle' for both. Notably, these findings suggest that guidance is needed to start conversations about mental health so employees can stay well and in work. Therefore, they can perform at their best while you retain talent and expertise.
Considering the benefits of talking about mental health, we explore why it can still be hard to discuss with employees and provide six tips to start the conversation.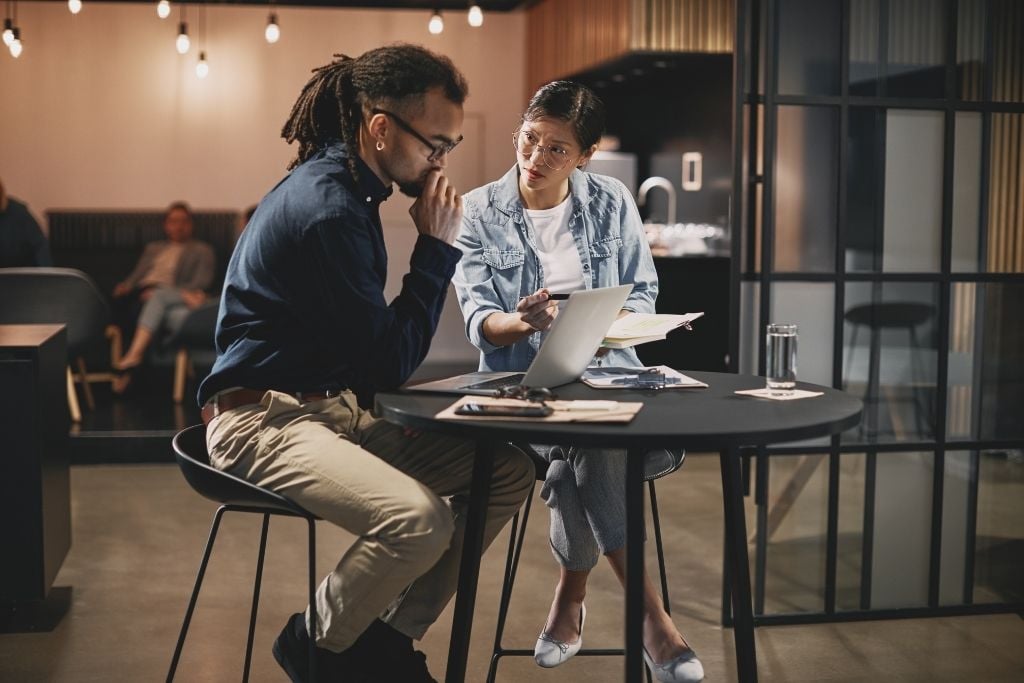 Why it's hard to talk about mental health  
Mental health is still the elephant in the room in most workplaces. According to the CIPD, more than four in ten employees would not feel comfortable disclosing poor mental health to their employer or manager. A survey conducted by mental health organisation Mind also found that one in five workers are afraid to disclose because they fear redundancy and discrimination. Meanwhile, managers avoid the subject out of fear of violating professional boundaries or provoking legal repercussions. Consequently, this culture of silence can cause mental health issues to spiral into a crisis, leading to increased sickness absence, presenteeism and staff turnover.
More than four in ten employees would not feel comfortable disclosing poor mental health to their employer or manager.
It is unlikely that someone will discuss such a sensitive issue with their manager if they lack trust in them. Therefore, managers need to be approachable and listen when staff ask for help. Specifically, employers need to consider whether their workplace culture promotes discussions about mental health and disclosure. In order to reduce anxiety, opening a conversation is a crucial first step.
6 tips to start talking mental health
While there is no perfect way to start a conversation about mental wellbeing, the following six suggestions can help you get started.
1. Create the right conditions
Consider carefully how, when, and where to start the conversation:
Arrange a plan where you can talk privately – suggest a walk outside or grabbing a coffee.

You can also ask your employee where they prefer to meet.

 

Choose the right time – a break, lunchtime or a private meeting where you won't be interrupted.

Set up the right conditions for active listening – sitting near them or being beside them may be best. Give affirmative physical and/or verbal nods.

Working from home may require you to demonstrate active listening more verbally on a phone call or video call
2. Ask open questions
Don't be afraid to ask how they are. Here are a few examples to start the conversation:
"How are you today?" Making it about the present can help you avoid the standard "I'm fine" reply.

"I noticed you haven't seemed yourself lately, how are you doing?

"How do you look after yourself?

"What support do you have in place? Are there people you can talk to?"

"What steps toward healing have you taken so far?"

"I want you to know that I'm here to listen and help if you need me to."

"When can I check in with you again?"
Ask 'what' questions to help get a better understanding of where they are in their journey. These questions also create answers where you can celebrate their triumphs. 'How' questions help people identify what they do that is positive and what they do that is destructive. 'When' questions are unintimidating and, therefore, can potentially open up a meaningful conversation.
Questions to avoid:
"You're struggling. What's up?"

"Why can't you get your act together?"

"What do you expect me to do about it?"

"Your performance is unacceptable – what's going on?"

"Everyone else is in the same boat and they're okay. Why aren't you?"

"Who do you expect to pick up all the work that you can't manage?"
Remember to avoid 'why' questions as they imply a harsh, detached accusatory tone that only exacerbates the situation. If the individual knew why they felt the way they did, they would fix it themselves. Moreover, such questions assume mental illness has a specific cause, which is not always the case.
3. Ask twice
Ask twice as this lets people know that you are genuinely interested.

Often people feel uncomfortable opening up if their manager asks, "how are you?" because they think they're just being polite. But if you say, "no, really is everything ok?" people know that you're not just going through the motions.

Even if they do not want to talk at that moment, they know you are there to listen.
4. Talk about yourself
Share your feelings to help them feel safe and understood.

You don't have to disclose a mental health problem and you might not have any personal experience of one. You could say that you get down sometimes or share something you have been worried about lately. By doing so, you will convey that you are happy to talk about feelings without judgment.

The main message that needs to be conveyed is… we're all human and we all have mental health. Talking about it makes a significant difference.
5. You don't have to meet in person
Seeing a person's face, understanding their body language, and hugging them can help. However, some people find it easier to communicate via text or email.

If you primarily communicate with them through WhatsApp or Teams, check in with them there. You can still use all the above tips online.

Using social media is great for staying connected with others, but just liking a video or liking a post doesn't mean you have a connection with that person.
6. Reassure them support is available
People may not always be ready to talk straight away, which is why you should outline what support is available.

Reassure them that your door is always open, and they can speak to you at any time.

Let them know you will ensure they get the support they need.

Signpost them to resources such as your EAP, useful contacts and online mental health support or suggest a visit to a doctor.

For those who disclose, create a Wellness Action Plan (WAP) to remind them what they need to do to stay well at work and how line managers can support them.

Develop an awareness of working style, triggers and responses which enables an individual to communicate these to their line managers.
The main message that needs to be conveyed is… we're all human and we all have mental health. Talking about it makes a significant difference.
What tools can encourage mental health disclosure
Large organisations have introduced tools to encourage mental health conversations. For example, in 2017, Deloitte renamed their employee assistance programme 'Advice Line', enhancing the service by including more face-to-face counselling sessions and online cognitive behavioural therapy (CBT). A noticeable increase in users emerged, and employees started reaching out earlier before more serious problems developed. Such mental health schemes can create a culture of openness and enable employees to talk about mental health concerns. As for starting a conversation in the workplace, Mind and the CIPD have created disclosure tools, such as information, practical advice, and templates which can be integrated into HR policies and practices.
At HealthHero, we believe creating an environment where employees can openly discuss mental health is key to making an enormous difference in their working lives. Through our Mental Health Support Programme, you can improve staff wellbeing and get the support you need to do this even better. As a benchmark of best therapeutic practice, the program offers clinically proven counselling programmes, psychological interventions, and critical incident training. In addition, led by an extensive team of clinical experts, these services can provide solutions that fit the needs of your employees.
Contact us today to start your journey towards better mental health in your organisation.