3 minute read
You may not realise the impact the NHS crisis has on your workforce. The difficulty of booking a GP appointment can discourage employees from seeking necessary medical advice, and when they do book a GP appointment it can take weeks to be seen.
During this time employees may be too unwell to come into work or be in work unwell, possibly anxious about their medical condition impacting productivity and risking the spread of infection.
If your employee is lucky enough to get an appointment with their GP at a convenient time, they still have to take time out of their day to travel to the appointment, wait in the GP surgery and then, if they are issued a prescription, find a local pharmacy and wait for the prescription to be fulfilled.
Even if your employee is not unwell themself, they still need to go through the same process when a dependent is unwell.
This inconvenience over the 2017/2018 winter period resulted in 75% of patients flooding one of London's busiest A&E departments because it was 'more convenient than waiting for a GP appointment.
Unfortunately, many people feel they don't have a choice. GPs are at the heart of everyday health and the gatekeepers to any further treatment so access is crucial for everyone. The number one cause of short-term sickness absence is minor illness while the number one cause of long-term sickness absence is acute medical conditions, according to CIPD Health and Wellbeing Survey 2018.
Employers can reduce absenteeism and presenteeism* by helping employees access the healthcare they need, when they need it. Fast, convenient access to a practising GP is crucial for employers to consider as the crisis in the NHS surges.
*Absenteeism is defined as an unplanned employee absence. This can be situations like family emergencies, taking dependents to visit medical professionals, childcare problems etc. Presenteeism describes when an employee is present at work, but they're not doing their job or being productive – this could be due to a number of factors like ill-mental health, burnout or problems at home.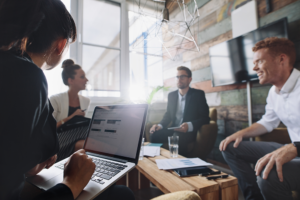 Unlimited 24/7 GP appointments
Telephone and online GP services are playing a vital role to businesses, improving productivity by reducing absenteeism and presenteeism.
HealthHero has been providing 24/7 access to practising NHS GPs for over 20 years. Providing employees and their loved ones access to GPs anytime and anywhere, 24 hours a day over the phone or via video consultation. Employees don't need to take time off work to book or attend a GP appointment and can consult with a GP at their convenience 24/7. Where necessary GPs can provide private fit notes and private prescriptions where the medication can be delivered to the patients home or work address.
All patients receive a clear course of action with the diagnosis and advice they need while 80% of callers don't need to see another medical professional. If one of our GPs considers that your employees' health condition requires further investigation or treatment, our GPs can issue an open private referral letter to private secondary care.
All our doctors are NHS Practising GPs, which means they have the same qualifications as your own NHS GP. We hand-select each one of our GPs, based on recommendations and review their performance to ensure the highest quality.
At HealthHero we know how important it is to demonstrate value, which is why we provide clear usage statistics and measurable values, which will help you to better understand the healthcare needs of your employees so you can improve their health and create a wellness programme that meets your employee's needs.
Speak with us today for more information.