1 minute read
I am excited to launch our new brand identity today! HealthHero has come a long way in terms of our achievements as well as in terms of our ambition for the future of digital health. Our new brand identity captures both the evolution of our company as well as the aspiration for the journey ahead.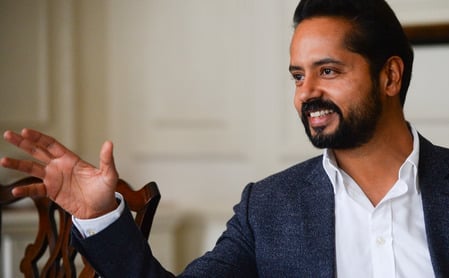 Ranjan Singh, CEO and Co-Founder
The design you see reflects the central core of what we do, which is combining gold-standard clinical services with smart technologies. It showcases our evolution into a leading pan-European digital-first, end-to-end healthcare provider. It also reflects how we are going to continue using best-in-class digital tools and our core clinical services to move the entire sector forward by bringing different parts of that ecosystem in a joined-up offering.
What I especially like is that our new identity reminds us that healthcare is human. The form is soft and curved, and the joined dots might remind you of two human beings shaking hands or in an embrace. On the more practical side, it's a more usable symbol across markets and across our different propositions.
From funding to clinical capacity, we understand that healthcare is under immense pressure. This means that patient experiences are often slow and disconnected. Digital- first care can play a key role in delivering solutions that provide greater efficiency for clinicians, as well as a better experience for patients.
HealthHero's mission is to deliver smarter ways to meet whole health needs. Our company reimagines how healthcare is delivered across the "whole health" spectrum - a wide range of needs and conditions and everyday situations – for both mind and body. We use this same combination to help healthcare organisations improve their efficiency and businesses to better support the wellbeing of their staff and customers.
This new brand identity represents our bold ambition to transform healthcare - without forgetting that it is together, that we are simplifying healthcare, and improving lives.

Ranjan Singh
CEO & Co-Founder